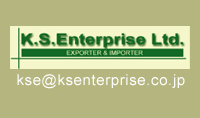 We have pleasure in announcing that we have established parts department for any make.
(Mainly KUBOTA, YANMAR, ISEKI, MITSUBISHI etc.)

We deal in parts as follows.

| | |
| --- | --- |
| | Almost all parts (ex. oil seal, bearing, packing, filters, glow plug etc.) |
| | front mask, light grille, side cover |
| | side sticker=bonnet sticker (ex. YM1500, TX1300, L2202, etc.) |
| | parts book (ex. B5000, FX175, TL2100, MT1601 etc.) |
| | rotary blades |
| | tires |
| | Seat Cover (3types) |


The prices of parts are subject to change because of the exchange rate etc. we welcome any inquiries regarding parts.

If you would like to know the price of parts, please let us know the brand, model, serial number, 2WD/4WD, name of the parts, and parts number by email.
Copyright c2000 by K.S.Enterprise Ltd.All rights reserved.